Welcome.
This website represents my work as a freelance motorsport photographer.
Here you can find a selection of racing, trackday and Goodwood event galleries as well as a few other galleries showing some of my all time favorite pictures.
If you are interested to book me you can find an overview of my services and a few reference partners and publications.
You can now also buy a selection of prints or limited edition canvas.
And as always there is the popular racing calendar.
Visit the Frozenspeed webshop to see the current collection.

Frozenspeed 2017 Calendar
2017 Racing calendar
is now available from the
webshop
!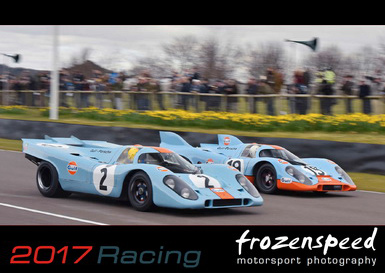 Manthey Speed&Fun Day


An impression of the event is now viewable here.
Destination Nurburgring 17

An event impression is viewable here.

Private galleries and order details for participants are viewable here.
RSR Spa Francorchamps


Impressions of the RSR Spa events are viewable in the RSR event galleries.

Schnelleschwaben


Impressions of the Schnelleschwaben events are viewable in the Schnelleschwaben event galleries.
RMA Spa - Nurburgring


Impressions of the RMA Spa and Nurburgring events are viewable in the RMA event galleries.
Ferraris on the Nurburgring


Celebrating more than 10 years of frozenspeed motorsport photography!
A first gallery is now viewable here.
75th Goodwood Members Meeting


An impression of the 75th Goodwood Members' Meeting is now viewable here.
Gedlich Racing


Impressions of the Gedlich Racing events are viewable Gedlich Racing event galleries.
Nurburgring ADAC 24h


An impression of the Nurburgring ADAC 24h event is viewable here.
Isle of Man TT

An impression of my visit to the 2012 Isle of Man TT is viewable here.