MotoGP: Turning the fever-ometer up to 11
I placed a big black tick on my bucket list in May as I arrived at Jerez de la Frontera, eager and ready to experience the most atmospheric MotoGP event of them all; the Spanish Grand Prix.
It didn't disappoint.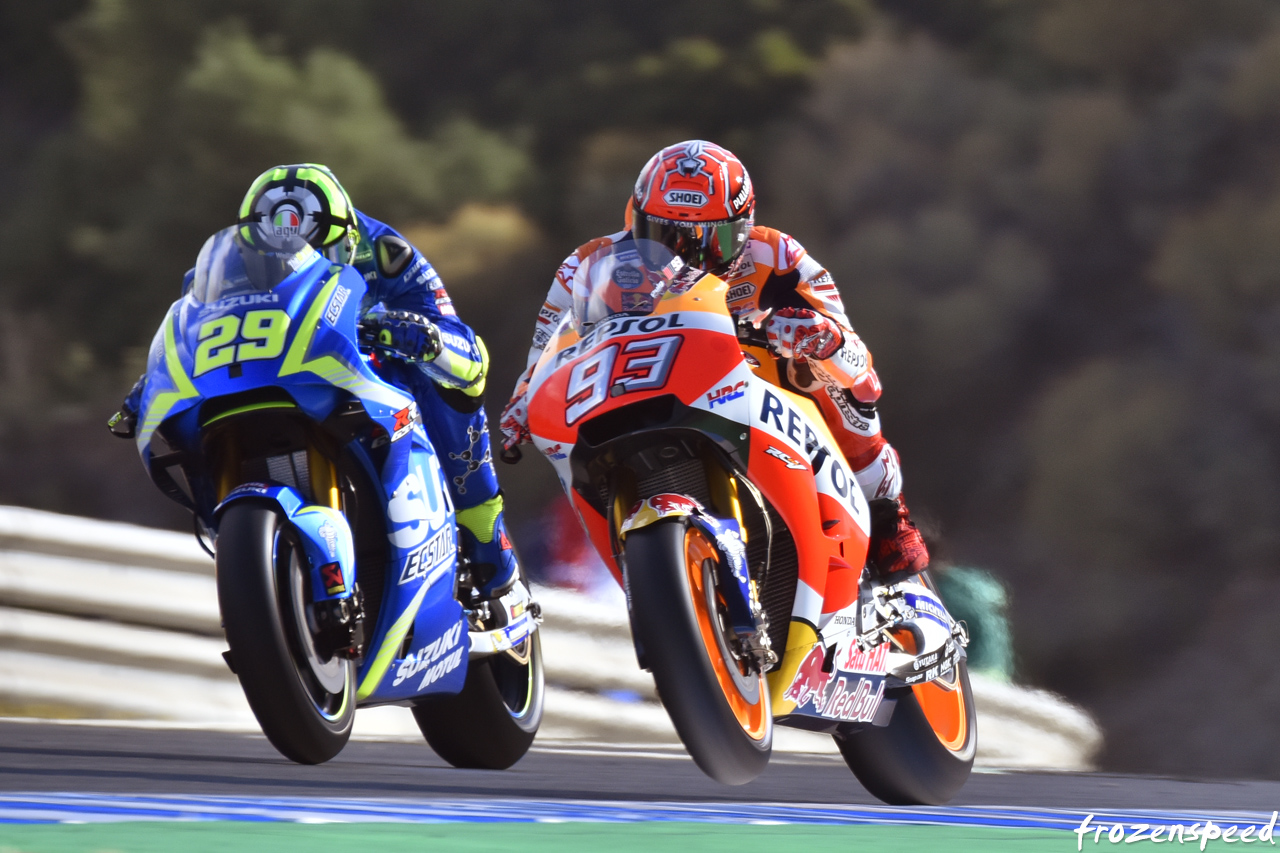 Call me crazy, but even on a freezing cold midweek day in winter – my first visit to Jerez for a private track day, the place had an aura.
The grandstands were empty
, but you could
feel something
, and memories of dramatic last-corner collisions between Valentino Rossi and Sete Gibernau, and latterly Jorge Lorenzo and Marc Marquez, left me wanting, no; needing, to return for the main event.
GP Thursday is traditionally preparation day and I'll try to walk the track to suss out the best photo positions (often temporary advertising hoardings or safety measures can obstruct your access or view, so it's always good to check).
This time, I immediately bumped into
Paolo Simoncelli
, father of the late Marco Simoncelli – of whom I was a great fan.
Paolo, who had been an occasional paddock visitor since his son's death at Sepang in 2011, was back full-time in 2017 with his
SIC58 Moto3 team
and was showing his rider Tatsuki Suzuki around the circuit.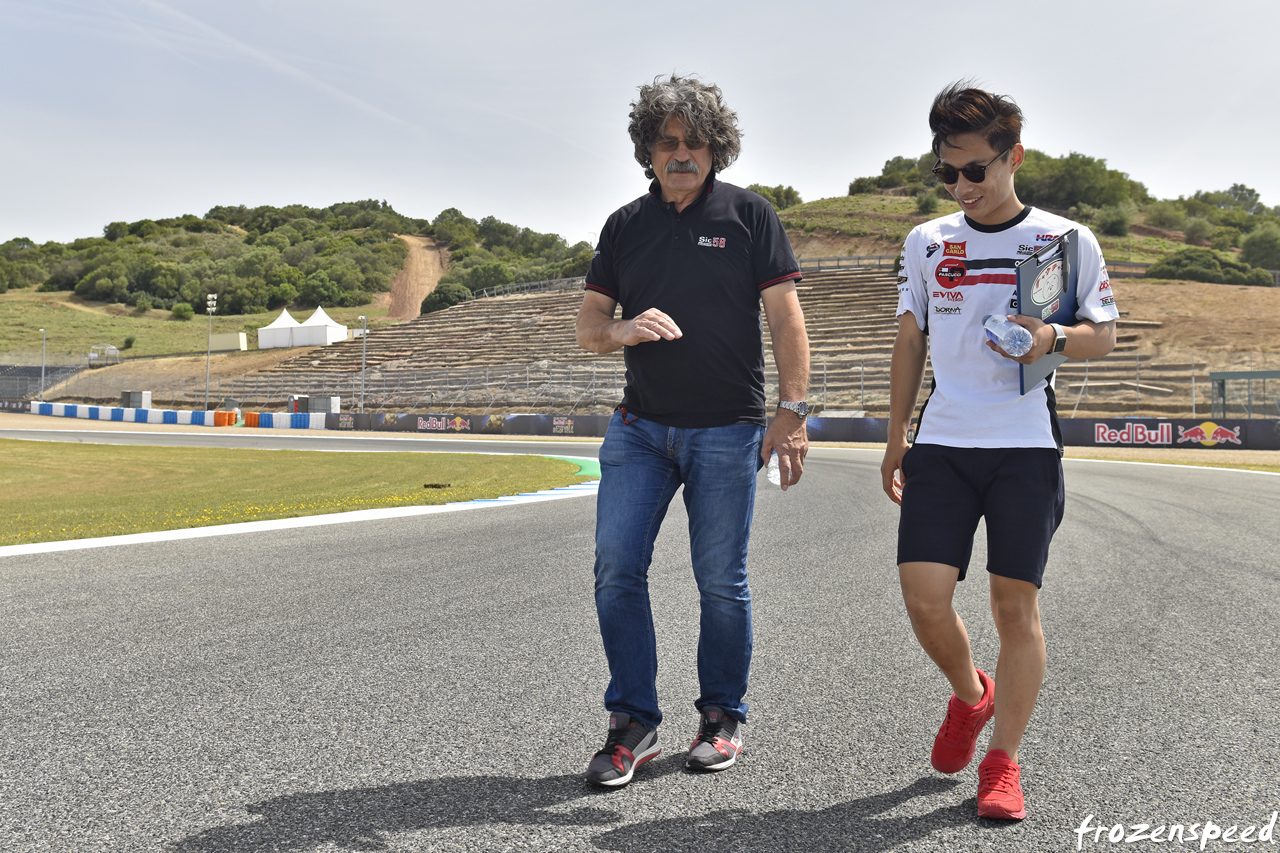 I like the contrast in the expressions; young Suzuki's delight and innocence contrasted with the paternal look of Simoncelli Sr, a man well aware of the risks of the sport. It's always important to have a sense of perspective in a sport as dangerous as motorcycle racing and this sums it up in an image.
Next up: the rider press conference.
They're not exactly the most interesting of affairs (Sepang a few years ago excepted), but this one had its moments.

I was extremely pleased to catch this moment; I think it says something about the personalities of each rider. Lorenzo looks suspicious, Cal Crutchlow grumpy, Rossi entirely at ease as he speaks to the assembled press, and Marquez staring straight ahead, concerned only about his own performance this weekend rather than any mind games anyone else might have in store for him.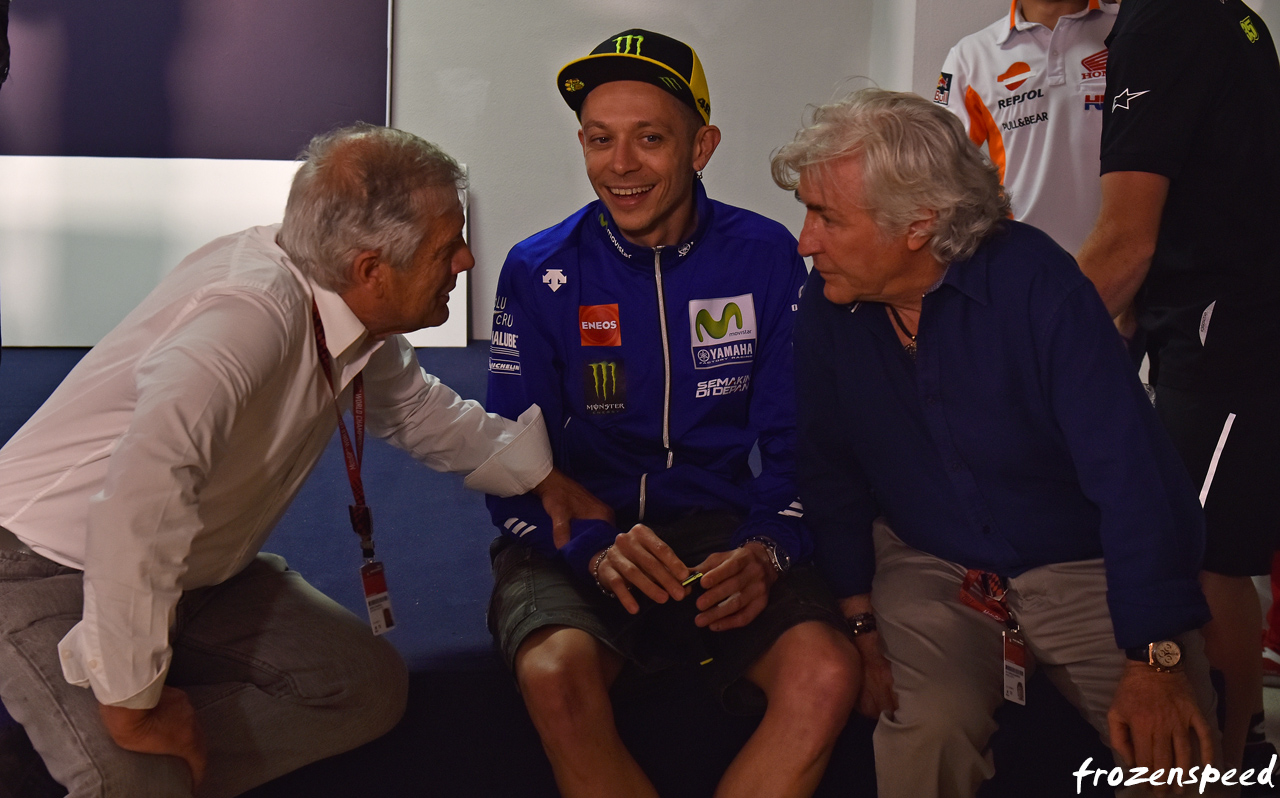 A treat had presented itself during the build-up too as I spotted 'The Doctor' exchanging words with Giacomo Agostini and Angel Nieto; the three most-successful grand prix riders of all time with now 327 wins and 489 podiums between them.
Rossi is a fan, first and foremost, and the fact that these guys respect his achievements is a source of great pride to him.
You can see in his face that while comfortable in his surroundings, he still has an element of deference towards them.
Of course, this image is all the more poignant as it was to be Nieto's final Spanish GP attendance.
Keeping things current, isn't Marquez a fascinating character?
As I mentioned earlier, he doesn't seem to have any interest in what the rest are doing; he's focused on his job, his task, his expectations.
But there's no sign of that edgy intensity you get with Lorenzo.
I grabbed a moment with him – and no more – on Sunday morning as he quickly returned to the Honda garage after attending the Moto2 podium ceremony to applaud his brother Alex's maiden win.
"Hey Marc" I shouted to him, provoking this reaction. Utter relaxation. 'That,' I told myself, 'is a man who is totally comfortable in his environment.'.
Such was the tightness of the schedule, he was changed, on his bike and headed to the grid just a few minutes later.

As it turned out, he couldn't get near team-mate Pedrosa during the race, as had been the case all weekend, no matter how hard he tried (see exhibits
1
,
2
and
3
), but he did take second place, whilst serving up
lashings of his unique riding style
.
No more so than in this image, taken at Peluqui; the right-hander that indicates you're nearing the end of the lap.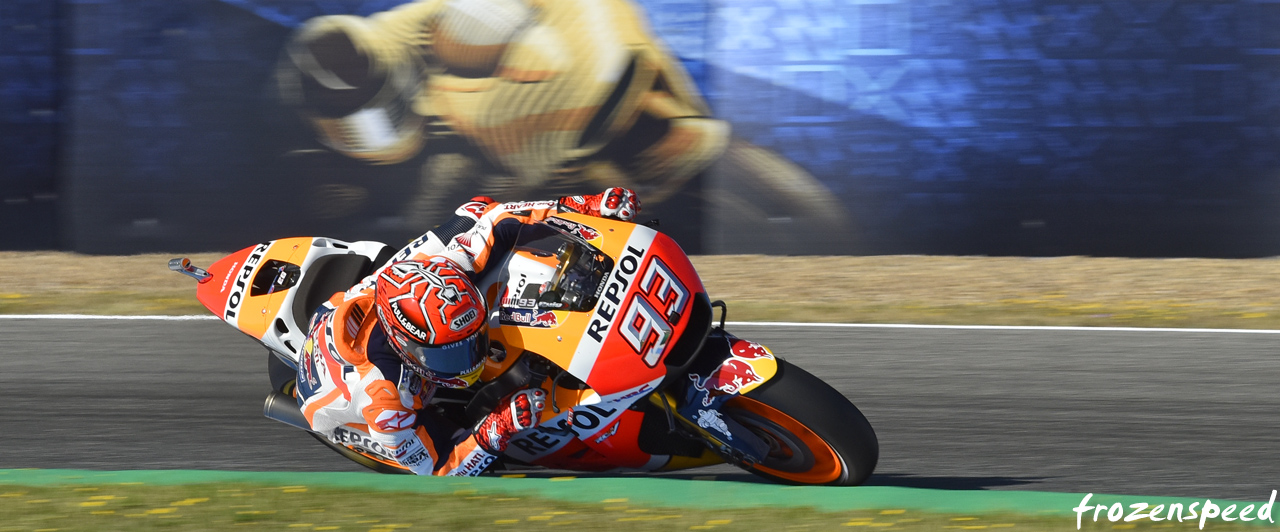 There was no 'chance' about this image, which was taken during Sunday's warm-up practice.
Once I saw the Spaniard's elbow come down against the kerb, there was a need to catch this action in alignment with the fitting sponsors' board behind him.
A blend of patience, timing and experience got the job done. Thanks to the relatively slow-speed nature and constant radius of the turn it was possible to combine bike and rider crispness with just the right amount of background blur to make this shot work.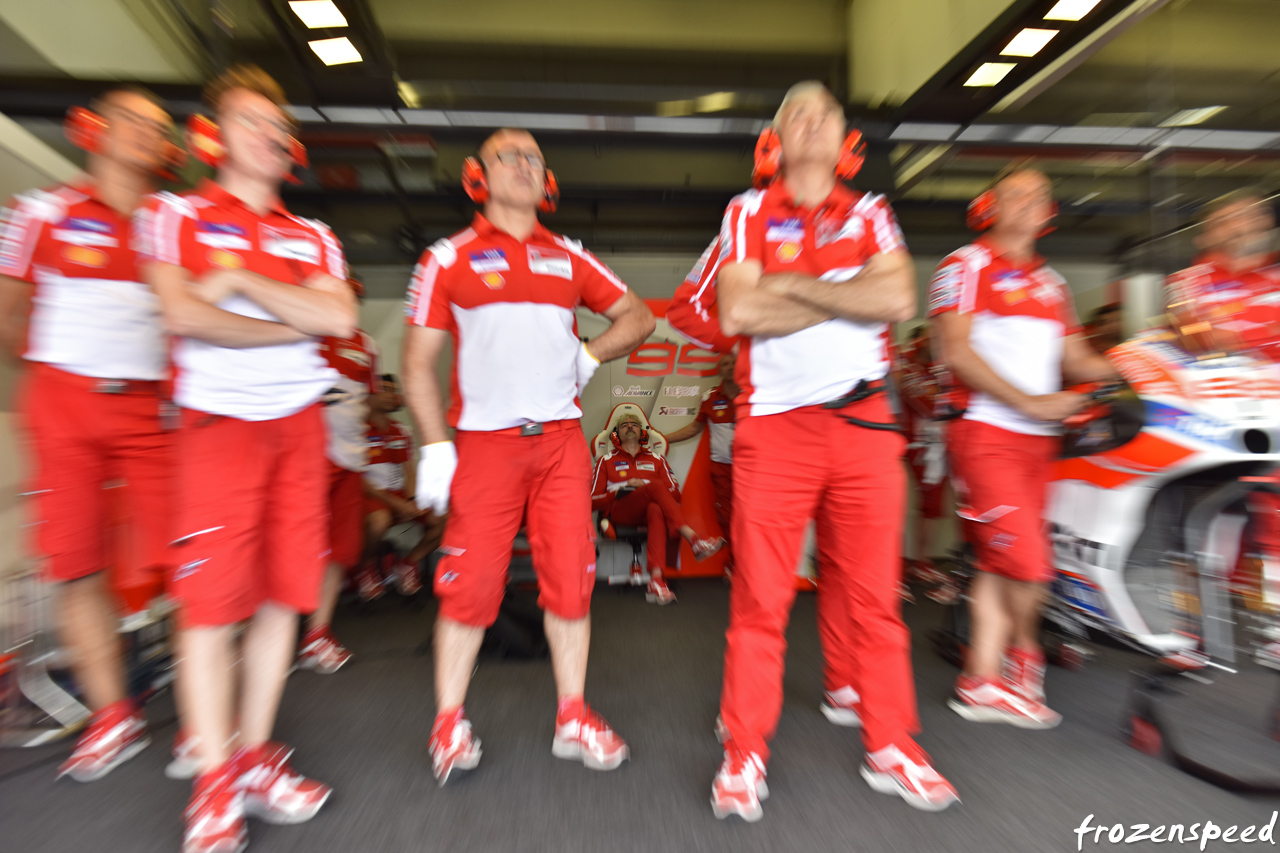 I was honoured when Mat Oxley – probably the most universally-respected MotoGP journalist – agreed to team up for one of his
Motor Sport Magazine blogs
. You can probably imagine my reaction when I found out that
Freddie Spencer
was also going to use my images in
his column from the weekend
!
I'm a big fan of working with scenery and believe that at a live motorsport event, the backdrop (including a dynamic crowd) are as much a part of the atmosphere as what's happening on-track (especially when fast jets are involved – like the Aviojets of Patrulla Aguila, who appeared on Sunday as the race was about to start).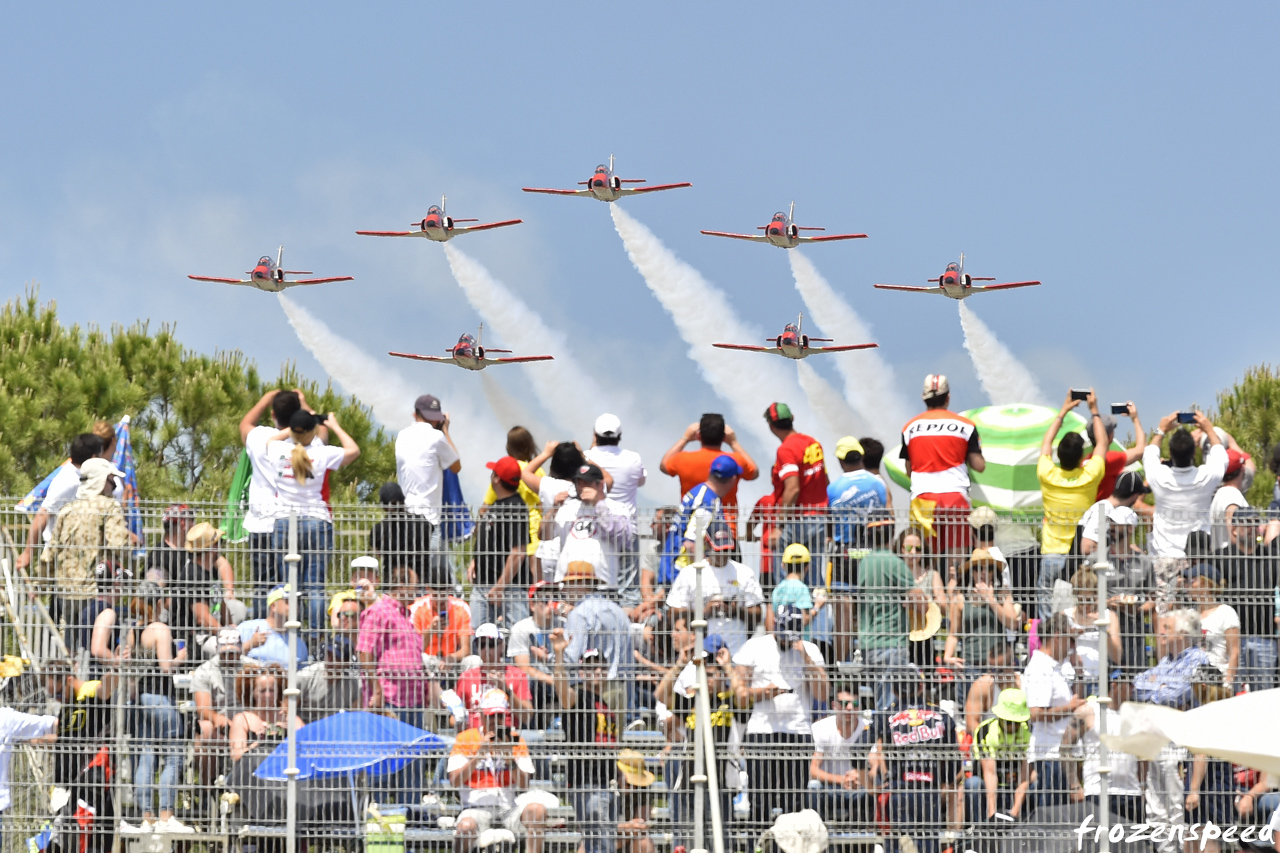 The Spanish crowd, in particular, are as
emotionally involved
in their riders' progress as any I've ever witnessed, and I'm particularly pleased with the image below, which I think bottles something you can't, well, bottle.
During sessions, you're totally focused on the track action, but in the gaps, things go a little flat as the flasks and sandwiches come out and bums go back on seats. That wasn't going to work for this shot though.
I started waving my arms to gee them up. First one body rose, then another, and then more.
An enthusiastic reaction, but nowhere near the full-on buzz you get during races.
After getting a few images I started to speed along the service road on the push-scooter I use at races and they instantly reacted. Arms waving, air-horns sounding… This was my moment to strike, and this was the result!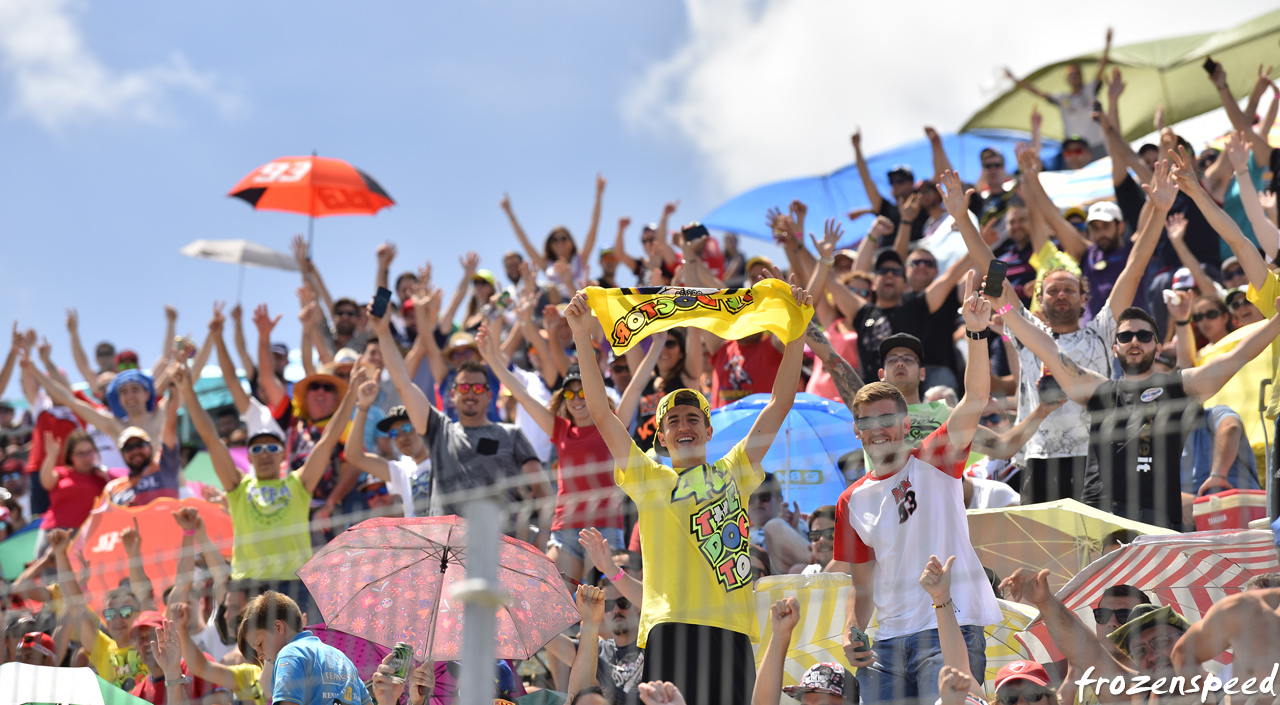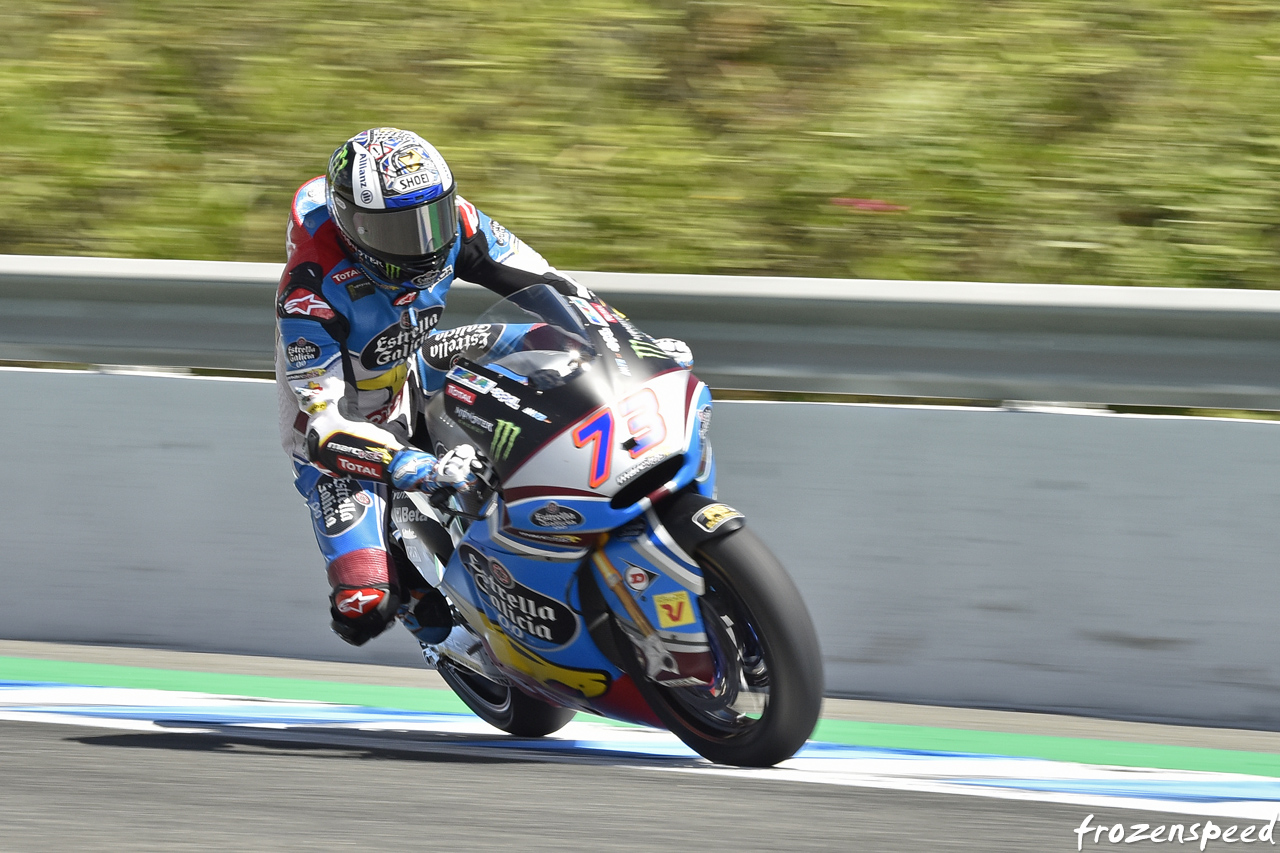 Moto2 qualifying practice gave me the chance to capture one of my favourite shots of the entire year, as Alex Marquez slid his Moto2 Kalex-Honda into the Dry Sack hairpin.
Just look at how out-of-shape the bike is; the rear totally stepped out while the front heads to Cadiz.
In contrast there's the razor-sharp focus on the rider's helmet. His visor reflecting the track and symbolizing his determination and focus as his eyes are firmly locked on to the corner apex.
Alex's got this under control.



Both the Moto3 and Moto2 races were mega-exciting and got me properly warmed up for the main race.

For the MotoGP race, I decided to position myself on the inside of turns 1 and 2, mainly because of the wide variety of shot range but also because of the proximity of the
final corner
, in case things seemed to head for another final corner clash.
One of my favourite race images caught the battle between Maverick Vinales and Andrea Dovizioso.
See how the rising asphalt and off-camber exit has created two wildly differing attitudes?
That's part of the magic of bike racing and you can really see the effort both riders are putting in as their tyres lose grip towards the latter stages.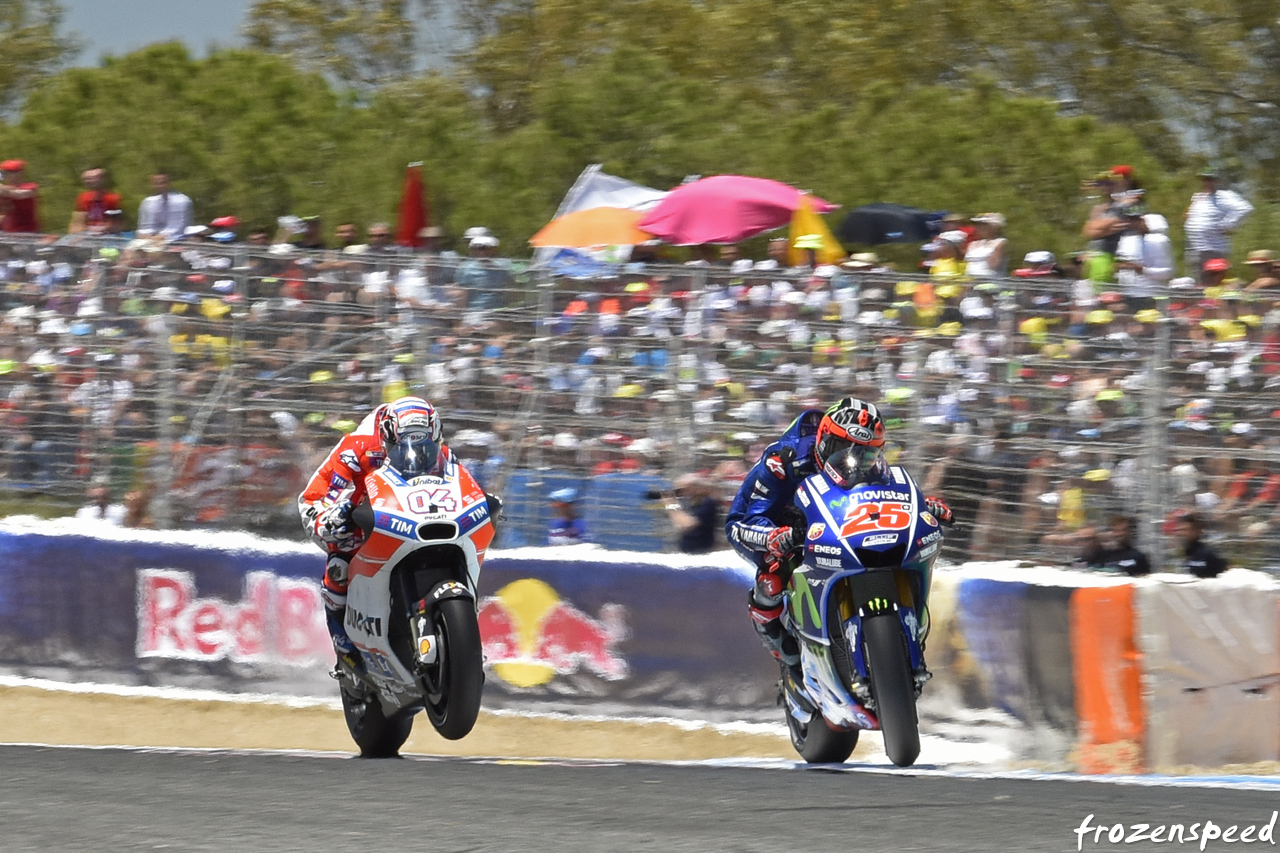 And then suddenly it was all over.
Podium, editing, sunset, departure.
A pretty abrupt end to a mesmerising weekend.
I'll be back though; mark my words.
I hope you enjoyed this review and the images as much as I enjoyed making them and look forward to getting back to you soon!

If you liked what you've seen in this blog, a few copies of the annual
Frozenspeed poster calendar
, including the above featured
Marquez image
, are still available
here
, priced at 25 Euros.
2017 Goodwood memories
There's nowhere quite like Goodwood. It's a cliché, but in motorsport terms, it's absolutely true.
I've been working for Goodwood since the 2010 Festival of Speed, first as a guest photographer and then as a fixed member of the estate's official photography team since the 2012 Revival.
It's allowed me to capture moments I simply wouldn't be able to witness anywhere else in the world, some of which you can see here in my annual 'Goodwood Snappers' Selection' column.
My brief, for quite a while now, has been to focus on the
track action
; cataloguing
everything
that
moves
for the Goodwood archive and ensuring that their 1000-strong media guests have access to whatever they need image-wise from the event.
At FoS I inevitably end up in the collecting areas at the top or bottom of the hill as I move around the site to shoot in various positions, and it's these hives of activity that sometimes allow you to capture those brief
moments
of
magic
that can be kept
forever
.
This image of Valtteri Bottas in his Mercedes F1 car as he waited for the modern F1 parade, is just one example of what I'm talking about.
From spotting the gap, kneeling down, adjusting my camera settings, shooting and moving on, the whole process took about five seconds. But with experience and instinct, that's all you need to get that magic image.
Valtteri seemed to sense my presence and glanced my way just long enough to reveal the whites of his eyes; the center focus making him seem calm amid the storm created by the blurring effect around him. You can almost see into his mind.

That instinct I was speaking about also helped with this shot of racing raconteur Alain de Cadenet from the 75th Members' Meeting in March. The Members' meetings are far more laid-back than the FoS or Revival with crowd numbers capped and the focus on the racing in the style of the club meetings at the circuit in the 1950s and '60s, rather than the fanfare of the better-known events.
Against this informal backdrop, scenes like this become possible.
The little boy was so interested in the McLaren M8C that 'Cad' invited him to try it for size. Look at his expression!
He'll never forget this moment and Alain clearly recognises this too, as you can see from the pride on his face.
It's what binds us all together as motor racing fans.

Passion does the same, and Tim Morley has shown this in spades as he's restored this wonderful
Bastos Rover SD1
; the last racing example ever built.
You can see the satisfaction in his face as he stands proudly next to it, awaiting the start of the Group A touring car
demonstration at 75MM
.
Chassis TWR20, raced in period by Denny Hulme, Win Percy, Jean-Louis Schlesser, Tom Walkinshaw and others, has undergone a 15-year rebuild, so Tim's certainly earned the opportunity to smile about it!
Tom Kristensen also has passion by the bucketload.
This image was created at the collecting area at the top of the FoS hill in June and is an example of how a little guidance from you – the photographer – can create a truly memorable shot.
TK was signing autographs and agreed to have some photos taken with the crowd on my request.
As he approached, some began cheering.
I gestured that they should turn it up to 11 and they obliged.
What 'Mr Le Mans' did next, in covering his ears, was pure pantomime, but it worked fantastically!

I'm of the opinion that a good photographer uses his or her environment to its maximum.
If it's a barren landscape, then intrusions are rarely welcome, but if it's a rock concert, the people ARE your environment and play a
key role in giving your shots a context
.
FoS is the rock concert of the motor racing world and the uniqueness of the event in allowing enthusiastic spectators to get within touching distance of some of the most legendary cars and drivers of all time means
people will always be your backdrop
.
A busy paddock is never going to be the place for a clear studio-style set-up shot, but that's not the point of this event. The crowd definitely enhance this one.
No matter how heavy your brief, thankfully, you always do get a few
moments
to
indulge
your own
imagination
.
I've always felt there aren't enough tight cockpit shots of
legends
at the
wheel
from the 1950s, '60s and '70s, so I was delighted to capture
Sir Jackie Stewart
taking a quiet moment of reflection inside one of the most beautiful racing cars ever built;
the Ferrari 330 P4
.
He looks pensive; as I imagine he might have done when he raced this car at Brands Hatch 50 years ago and I feel privileged to have stolen in for just long enough to catch the moment.
The skin and hair show his age, but the eyes are still young. I think I've caught his character pretty well.
Goodwood is probably the only place I can think of that still has the potential to take your breath away as you're trudging wearily back to the car after the end of a physically draining event. I had such an experience this year.
Despite having taken over 10,000 photos in four days, when I spotted this incongruous-looking transporter, I felt obliged to get my phone out. Featuring the 1971 Le Mans-winning Porsche 917K, the Can-Am Killer 917/30, 935 'Moby Dick' and what looks like a Nurburgring 1000km-spec 962, there's 4 legendary machines on display.
Or rather, partly on display.
And in a few minutes, these icons will be locked away and begin their trip home; the thousands of drivers who pass this truck on the A27 oblivious to the iconic machinery hidden inside.
It's the little sub-stories that I really love to capture and tell in my photos.
This driver was taking people around the circuit to the various vantage points during the Revival in his wartime Willy's Jeep; dressed-up in full US army regalia.
As he was giving me a lift I instinctively grabbed my camera and took this image.
It was pure spontaneity and it couldn't have come out better. His expression says it all; pride, detail, fun!

Fun is always a buzz word at Goodwood. I still have fun even when I'm lying flat on by stomach in damp grass, trying to shoot Frank Stippler popping out from behind the bushes, sideways as usual, in his Ferrari 250 SWB.

If you liked what you've seen in this blog, the annual Frozenspeed poster calendar is available
here
, priced at 25 Euros.
The final print run has just become available and is selling well so order fast to avoid disappointment.
I hope you enjoyed this review and the images as much as I enjoyed making them and look forward to getting back to you soon!

July 2017 Blog: Two legendary tracks, three incredible events
Motorsport has been my love and passion for as long as I can remember.
So much so that more than 10 years ago I decided to give up my job as an engineer to become a full-time motorsport photographer, dedicating myself to covering motorsport to the best of my abilities, getting as close as possible to the action and capturing it as a documentary.
I remember how at the time I felt safe thinking that I could easily return to engineering, but it's safe to say I haven't looked back since!
I'm Jochen and through Frozenspeed Motorsport Photography, I spend the year darting from racetrack to racetrack chasing the perfect image.
I've decided to start a blog to share my passion, images and some of the stories behind them, with you.
July has been another intense month with plenty of travelling through Germany and Belgium as some of the biggest events in the sportscar racing calendar descended on the Nurburgring and Spa-Francorchamps.
VLN 4 – July 8th
I have a very special connection with the Nurburgring Nordschleife and the VLN endurance series and this image really shows you why.
This is Eiskurve, one of my favourite locations to shoot from because of the way the bumps and kerbs unsettle the car multiple times, creating a great spectacle against a beautiful Nurburgring background.

The 2 Porsche GT3Rs going head-to-head are driven by Ringmeisters Romain Dumas and Frank Stippler.
Dumas's Manthey 911 has settled again but you can see how Stippler is still fighting his car as he accelerates over the kerb.
I love how the sensation of speed is emphasised by having the Manthey 911 pin sharp and the following car blurred out, which is achieved by walking a thin photography line.
Having spent so much time on and around the Nordschleife during the past 15 years, I know exactly where to shoot from to get unique action and/or atmosphere images.
This extends to seasonal foilage and gaps in the trees, which really show why it's called
'The Green Hell'
.
With images like this, timing is everything.
Over years you develop a good feeling for timing when the car will be at that perfect point to capture an image like this.
I've been photographing for
Manthey-Racing
for over a decade and it's very rewarding when a Nurburgring legend like
Olaf Manthey
, makes a point of telling you how much he likes a certain photo.
I have been happy to see how
Manthey-Racing
have reverted to using their iconic
yellow
and
green
livery, which helps the car stand out against a dark background and just looks great in general.
FIA WEC Nurburgring – July 14-16th
I've taken over 100.000 images already in 2017 (using single frame mode), but this one is my clear favourite so far!
Showing Brendon Hartley exiting his Porsche 919 Hybrid during qualifying, this image uses a special
zoom technique
I've been practicing recently. With the camera trained firmly on the New Zealander, he appears in razor-sharp focus while everything around him is in blur. This draws your complete attention and creates the effect that he's the perfect calm in the eye of the storm, which is a good metaphor for this kind of pitlane action as it looks wild and chaotic, yet everybody knows exactly what to do and performs their job perfectly.
Given rare and exclusive access to the Porsche prototype garage, you can tell a story that few photographers can and really reveal the emotions that play a part in top-level endurance racing.
It was a very special feeling to cover the weekend from inside the legendary Porsche prototype factory team and I am very grateful to have gotten the chance to do this before the programme ends later this year.
One of my assignments for the weekend was to cover the Manthey-run factory Porsche GTE 911 RSRs.
Not too tricky a task individually, but much more difficult to shoot together. Trying to get an image like the one below always reminds you that a race has no script and your influence as a photographer is very limited. .
As an example, I had inside information that Timo Bernhard would start the #2 919 with a double-stint, at the end of which I planned to shoot him exiting the car. Standing trackside later on, I could only look on as I saw on the giant screen that he climbed out after a single stint; a consequence of a late strategy change.
You simply have to see how everything unfolds; stay on your toes and react to the changing conditions.

This includes keeping track of the cars and their closing rates to predict when they will catch each other and plan where you want to be when that happens. In this case this was the entry to the Ravenol corner, meaning I could focus on the details of the RSR's impressive diffuser configuration with a fitting background, considering the dull sky of a dreary day.
On the section of track leading up to this corner I got to capture the incredible contrast between the LMP1 and GTE Porsches.
I am fascinated by the LMP prototypes anyway, but when you combine them with the GT cars on track, their incredible speed gets a reference point and you get to see just how impressive they really are.
In this shot the pair of GTE cars are like fish in the sea and I like how the prototype is looming in the gap between them like a Great White Shark (fin included).
You might get the chance to capture an image like this once in a whole weekend, so you have to take the opportunity when you do.
Capturing an image like this is comparable to putting a 3lb bait on an extra thick fishing line and ignoring the school of tasty, but familiar, fish swimming by. You might very well catch nothing, but if you do get a bite, it will be spectacular!
I also like the marbles on-track and the unused Michael Schumacher S grandstand behind as they reveal the spirit of endurance racing and make for a clean image composition.

A larger gallery from the WEC Nurburgring weekend can be found here.
Blancpain 24 hours of Spa – July 26-30th
And so to the 24 Hours of Spa, the highlight of the Blancpain Endurance Series.
Putting 60-plus closely matched GT3 cars in the hands of the world's top GT drivers together on this challenging track for 24 hours results in, what is in my opinion, the most intense GT race of the year.


You can't think of Spa without thinking of Eau Rouge.
One of the most incredible corners in the world that tests the skills of both drivers and photographers to the max.

Focusing on the Team 75 Bernhard Porsche at the start,
I got lucky as exactly the kind of moment I was hoping for (spectacle without drama) unfolded right in front of me
(and Kevin Estre) as Mirko Bortolotti fought to keep his Huracan under control after he reached this impossible angle going up Raidillon.

I headed back there at night and caught the Andy Soucek Bentley, which finished second, going through at full-pelt.
Images like this are technically very tough because the cars come past at 230kph at a distance of only two meters.
By using a tripod and getting the angle, strength and timing of the flash right, you can use a long exposure to create the effect of the trailing lights up the hill;
but not too long because this is all for nothing if there's another car following close behind.
Between Eau Rouge and La Source is the old pits; another special place to work at,
especially at night when the low ambient light allows you to fill in the light just where you want it.

Teamwork is a vital and fascinating part of endurance racing, as demonstrated by this mechanic changing wheels.
Just look at the determination in his eyes! However tired he is – and you can tell by the amount of dirt on the car that this is some way into the night – he is fully-focused on doing a perfect job.
I also love the curvature of the air hose, which helps complete the image.

A larger gallery from the Spa 24h weekend can be found here.
Besides these highlighted events I also enjoyed fantastic days on track with Destination Nurburgring, RSR, RMA, Gedlich Racing, Schnelleschwaben, at Goodwood and with various other partners and clients.

July done, next up for me are the AvD Oldtimer Grand Prix and the VLN 6 hour race, plus a host of races and track days full of exotic machinery at Spa, Assen, the Nurburgring and the Bilster Berg resort.

I hope you enjoyed this write up and the images as much as I enjoyed making them and look forward to getting back to you soon!


If you like what you see and think Frozenspeed can help with your motorsport photography needs then please don't hesitate to get in touch via
email
, and don't forget to follow us on
Twitter
,
Facebook
and Instagram (@frozenspeed).